It is around 3 p.m. We meet online to record our conversation. Initially, a video would have been played on a wall, probably framed in the centre of a self-supporting wall. Not being able to invite a helping hand to capture her performative lecture Ivana invites me to do a conversational piece. We decide to engage with concepts proposed in two curatorial projects she did last year.

Puzzled by how to do it technically in the best way, we forget to ask each other how we are. We make a short recording to test the sound quality. It is in Macedonian and many people won't be able to understand us so we cannot make use of it.

With the internet connection continuously interrupting our conversation, we decide to continue in writing. Writing stretches the time we need to respond to each other.

The images from the two exhibitions will be a breathing space, between this brief introduction and the conversation that follows.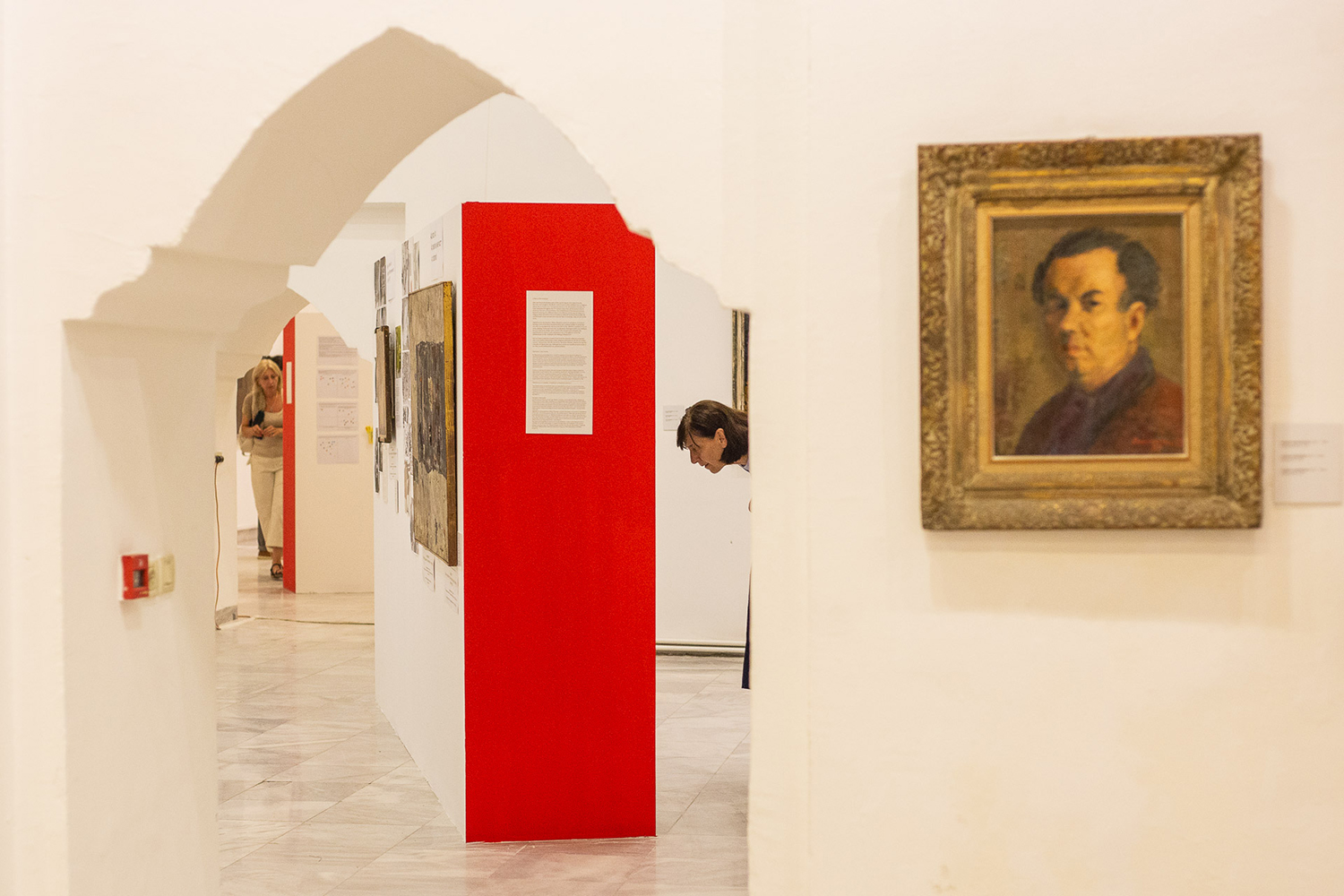 Images above
Anonymous is the Answer, group exhibition with the Museum of American Art in Berlin in collaboration with Walter Benjamin, Ellie Ga, Adrian Paci, Doplgenger, Oliver Musovik, and Filip Jovanovski. Both the permanent national exhibition of the fourteenth- to twentieth-century collection of the National Gallery and the documentation of a student protest in 1959 in Skopje are part of this exhibition. Curated by Ivana Vaseva, National Gallery of the Republic of North Macedonia, Daut Pasha Hamam, 2019. Photos by Dragica Nikolovska.

Images below
Other Scale of Things, an exhibition featuring part of the collection of the Museum of Contemporary Art, Skopje, and an installation by Srdjan Jovanovic Weiss. Curated by Ivana Vaseva at the Museum of Contemporary Art, Skopje, 2019. Photos by Dragica Nikolovska.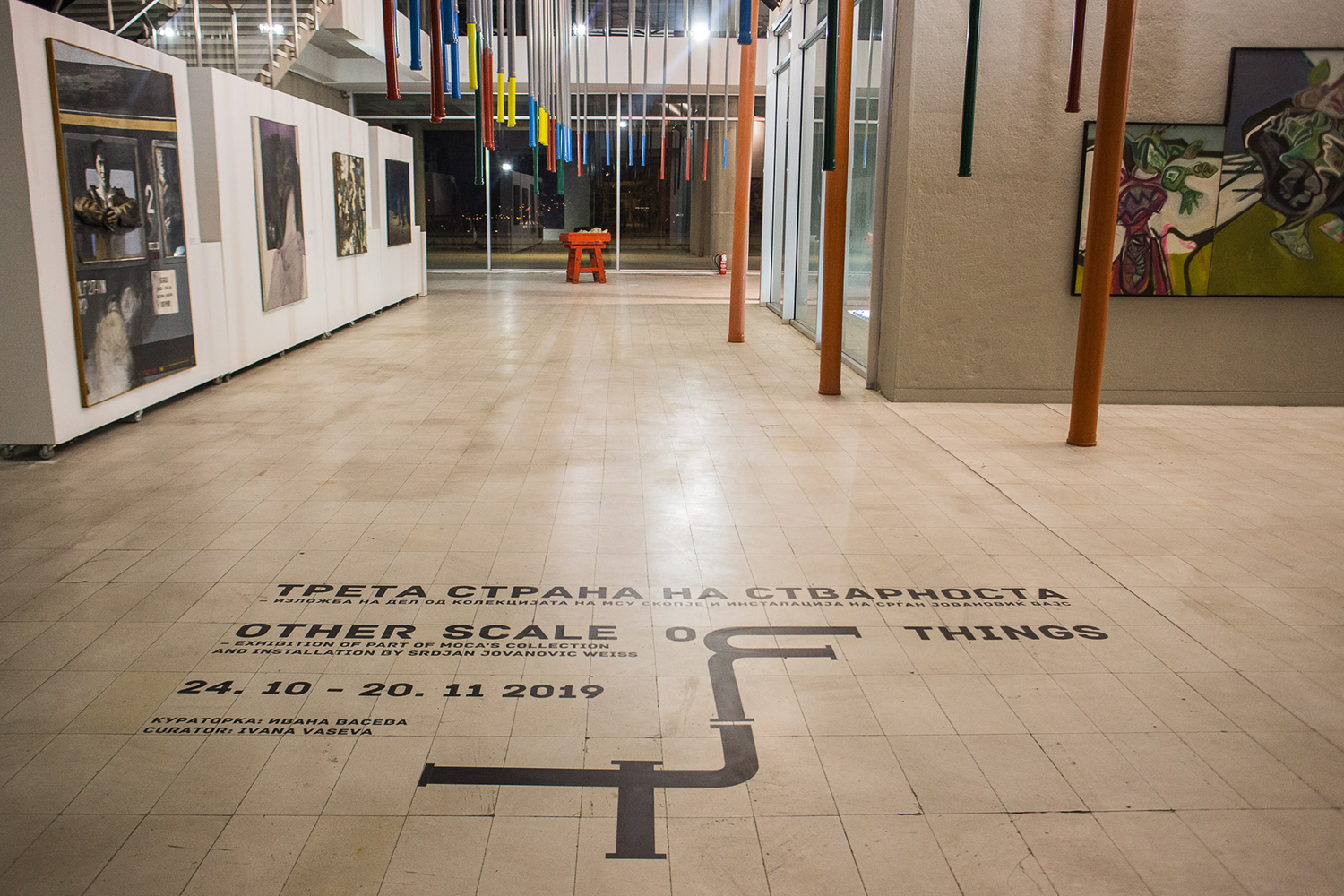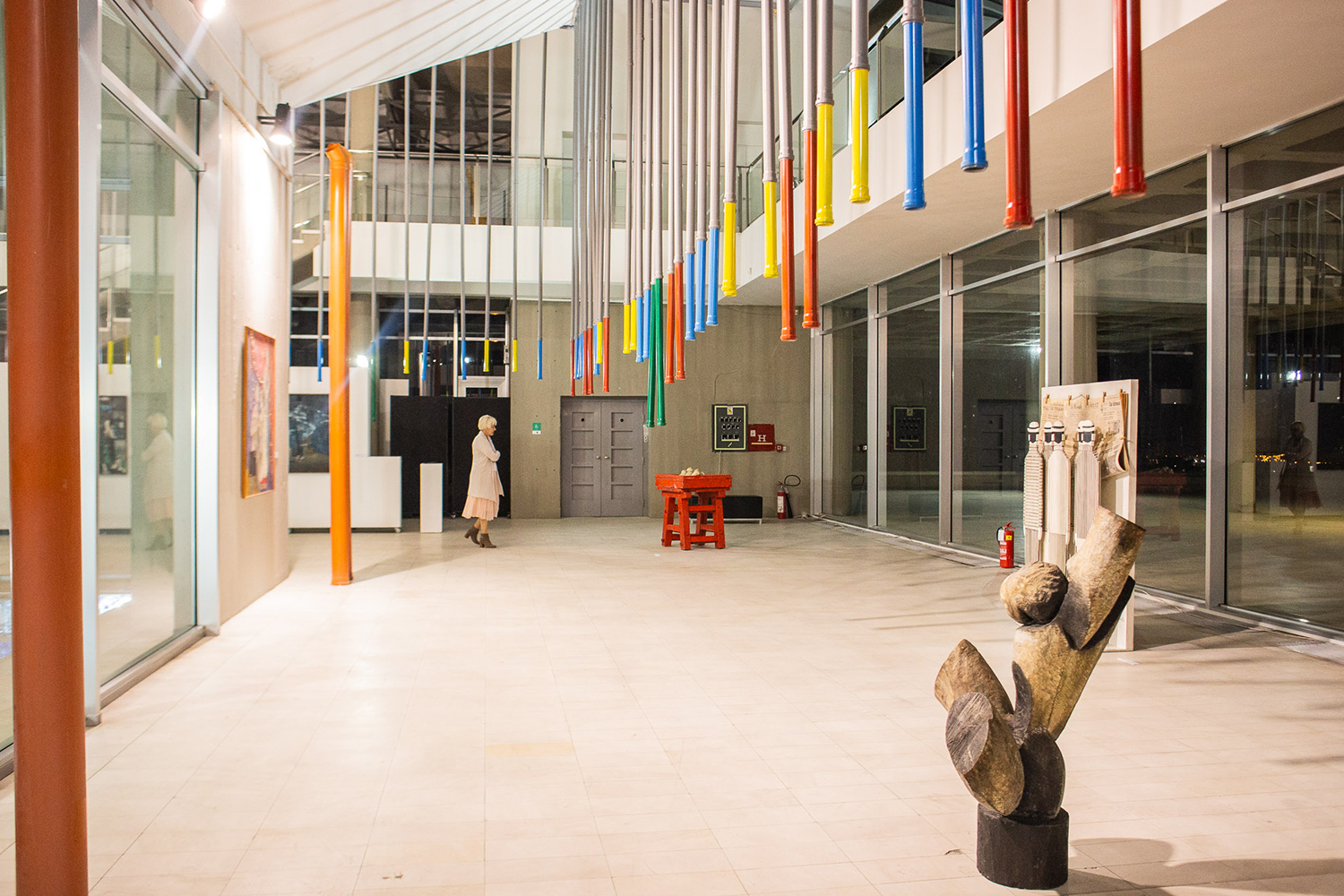 Anastasija Pandilovska: Hi, I hope you are doing well these days. It was nice to see you for a brief moment, even if at times the image was glitchy. Luckily, we saw each other last winter when we spoke about your participation in our symposium.


Ivana Vaseva: Hi Anastasia, how are you?
Now it is 3.50 p.m., the next day, May 2, and I am ready to start answering your questions.
Nothing has altered in the meantime, it is just the next day, slightly rainy as I can observe from my window, still from the inside of my home, under the curfew. My plan is to answer your questions and thoughts gradually, filling the page every day with new content, in the background of this online world where bodies are kept safely at home.

So let's start.

First of all I am really honored to have been invited by you and Marjoca to be part of the symposium "In the pause of a gesture there might be an echo". Although I made several attempts to make a presentation for it, all of them failed because I had many challenges to deal with in this last period and one major one – I am introducing you to my son Vedar who was born on April 15.
So in the spirit of Vedar (meaning "cheerful," "clear") let's start our conversation amidst the whole planetary crisis and the possible new and better world.

[Note: The interview was finished on May 21 and we are still hoping for a better world.]


Anastasija: Welcome Vedar! It really is a meaningful name in these times. Many of us have felt quite lethargic during the last two months, but I have to say that I've enjoyed staying indoors. It's given me some time to focus on curiosities I have had for some time now.
Marjoca and I are glad that you are part of the symposium. I think there is a parallel in our approaches to heritage as something which has an agency that can be used for rethinking the past, present, and future. I notice this, for example, in the quote from William Faulkner that you use in the text for the catalog of the exhibition you curated, Anonymous is the Answer: "The past is never dead. It's not even past." The idea that memories have the potential to change our attitude towards history is important when approaching heritage. This is central to a few of the projects you have done.

In the past two or three years, you've initiated and curated two projects: Anonymous is the Answer at the National Gallery of the Republic of North Macedonia and Other Scale of Things at the Museum of Contemporary Art, Skopje. Both projects dealt with collections from the institutions and question the position of the collection. And both of them emphasize the presentness of the past as an opening towards reexamining, challenging, and liberating the museum from the institutional canon.

Could you briefly introduce the two projects, because I think you can do that much better than me?


Ivana: These two exhibitions open up and delve into several layers. In this sense I must say that they are more discursive exhibitions than visual ones, although there is a lot to see as well. So discursivity is a key feature that marks these two endeavors and it invites to follow its lead.

1. The research was entitled "Alternative/Potential Modernisms: Modernism in Macedonia as a Self-colonizing Project and Potentiality of the Secondhand Knowledge as a Subversive Act." This lasted almost a year, from 2018 to 2019, and involved an analysis of the institutionalized modernist discourse as the key and still prevailing paradigm shaping the visual art public sphere in the country. What I try to introduce as a point of speculation is the idea that, from a postcolonial perspective, institutionalized modernism is a result of the colonial, or, in this case, voluntarily accepted self-colonizing rule (Alexander Kiossev), which, in a discrepancy between wish and reality, but also authoritative phantasms, led to its long-term maintenance and self-strengthening.

2. They both deal with the collections of the two institutions and examine how they are kept, displayed, presented, interpreted, and valued, and how the decision of showing the past is manifested.

3. Rather than offering a neat visual display of selected works, a form that often neutralizes the senses, they try to create a space for subversive and provocative voices, a space for confrontation between existing forms of knowledge and calls upon responsibility, collectivity, and solidarity… But they also make an effort to reexamine, challenge, and decolonize the selections and practices of the past.

The exhibition Anonymous is the Answer starts from the history, significance, and functioning of the National Gallery of the Republic of North Macedonia, as the oldest visual art institution in the country which also exhibits the national collection (which by the way hasn't changed its presentation concept since 2000). Here I introduce the concept of "the anonymous"/"anonymity" as an ultimate artistic reaction and rebellion, as a radical act of artistic subversion towards its own artistic position, towards the art institution and its autonomy and towards the modern presumption of knowledge.

"This rejection to succumb to the perpetuation of the relations of the western modern paradigm of the centre-periphery and its autonomy (as an empty institutional autonomy as its key ideology) is in fact a critical artistic attitude and a rejection to succumb to the repression, exclusion, erasure and self-sufficiency, as well as to the abstraction from the socio-political context. Anonymity or the anonymous becomes the last rebellion against the so much validated and privileged artistic personality, against the world of art and against the given rules of the game. Hito Steyerl says that anonymity or hiding the identity of individuals demonstrates an obligation towards a common goal and towards the creation of a critical mass that oppresses the individualistic identity politics." (From the exhibition catalog.)

The exhibition includes works from the Museum of American Art, Berlin, in collaboration with Walter Benjamin, Ellie Ga, Adrian Paci, Doplgenger, Oliver Musovik, and Filip Jovanovski. These artists radically interrupt what is known as the modernistic canon in terms of artistic and institutional autonomy and attempt to effectuate a political rearticulation of the time and space in which they operate. They sometimes call themselves artists, that is, sometimes they fully embrace anonymity as their own tool of resistance or use means of impersonation or empathy, another identity or another artistic personality, in order to set their critical position, which is a precondition for building or introducing democratic politics.
The works are placed in the context of the museum's permanent national exhibition – a show of art from the fourteenth to the twentieth century, installed in the year 2000 – as a general discourse, which, in time, has been supplemented with works that were significant for specific periods. This exhibition is an exhibition within an exhibition. It is not a rearrangement of the permanent exhibition, but an intervention, a gesture towards that manner of presenting heritage and the responsibility of its rereading in today's global capitalism. The exhibition was motivated as well by a historical event that is more or less well known in the history of the country: the student protests of 1959 in Skopje, which created the ground for the protests in 1968 in Belgrade.


Anastasija: The discursivity of the two exhibitions is quite important. I like that as a visitor I am invited to think with the works. It makes me part of the process rather than a mere observer.
Similarly you curated Other Scale Of Things, in which you set in dialogue the collection of the Museum of Contemporary Art in Skopje (MoCA) and an installation by the architect Srdjan Jovanovic Weiss. For those that don't know, the building was a donation from the Polish government following the big earthquake in 1963, and since then it has been a symbol of international solidarity.
"Solidarity" and the "contemporary" are two key concepts that you delve into as a way to discover different futures for the museum.


Ivana: The exhibition Other Scale of Things at the Museum of Contemporary Art in Skopje, as a symbol of international solidarity, creates a space for rethinking the concept of "solidarity" in the context of global capitalism as we witness it today (it could also be rethought in the context of the Coronavirus pandemic) and the "contemporary" perceived as an antagonistic space which consists of many parts of the past. Through the entanglement of these two notions, the exhibition explores a dynamic rereading of history and historical events in order to mobilize a different understanding and diagnosis of the present, so it can stimulate change and also bring to awareness or make visible what modernity has omitted, suppressed, or marginalized, thus imagining a different future as well.
One possible way to approach a critical reconsideration of solidarity and the contemporary is through the discursivity produced by inviting critical thinking and argumentation, instead of a unified perception, however compassionate it may be, while the collection and the archives, i.e., their selection, approach, manner of exhibiting and presenting, define their identity and ideological politics and position.
In such a context, Other Scale of Things tries to initiate a perspective of the existence of other values from the past that may help us build different historical narratives, by permanent exhibitions that would take us further in the creation of an open and lively museum unit.
The works selected for Other Scale of Things date back to the sixties and seventies and were already presented in this institution in 1989, as part of an exhibition entitled The Artist Facing the Fate of the 20th Century. What is specific for this exhibition is that it includes works of art containing stories, i.e., authors and works "speaking" of social participation and reflections on current developments in an engaged mode, as reminders of things that ought not to happen again. The current approach is that of accentuating works that carry an emancipating story, immersing the collective into the narrative which is included in the exhibition. The directness of the presentation and the evident artistic expression relate to the testimonies and data recorded.


Anastasija: How did you decide to work with these particular collections?


Ivana: These two institutions are the key visual art institutions in the country and they are celebrated for their collections. One of them as I've already mentioned presents a national collection, or in other words a status position – the artists included and the number of works encompassed in the permanent exhibition are the key concept of their presentation. The collection in MoCA in Skopje is an object of national pride because it was established thanks to international solidarity after the devastating earthquake of 1963, but there have been only rare opportunities to see it due to the constant problem of roof leakage.
I felt compelled to work with these institutions because they, as well as the collections they enshrine, are perceived as unchangeable temples of art which for a long time have dictated pretty much the same general matrix about art in this context. Furthermore, when collections are exhibited the selection is usually made along the lines of national schools or styles, and only very rarely with a critical and analytical approach as to how things are done and understood and how they influence future discourses and perceptions.


Anastasija: As I remember it, there were two public discussions as a prelude to the exhibition at the National Gallery, a performance by Ellie Ga at the opening, and a lecture by Adrian Paci? The one at MoCA also included a lecture by Weiss.
Did the questions asked during these talks influence what followed? And did you notice if the words exchanged during these meetings managed to break through the institutional canon and possibly convey the importance of self-criticism and of reexamining institutional authority?


Ivana: Anonymous is the Answer was part of a series of two debates in the National Gallery, "Institution of Possible Futures" in 2017 and "Institution of Possible Futures – Collection as Resistance" in 2018 in the National Gallery – Daut Pasha Hammam. Their online versions can be found here: https://www.youtube.com/channel/UCVLo0mAh1WV1mHpp6wCRsDQ/videos

Other Scale of Things, as I've already mentioned, was constructed of several elements, one of them being the installation ArchiLeaks by the architect Srdjan Jovanovic Weiss, created especially for this occasion. As part of the exhibition, Weiss also held a lecture about his research in Skopje in August 2019 regarding the building and meaning of MoCA in the context of brutalist architecture, modernism, and the chaotic construction of "Skopje 2014."

I really hope that the words exchanged during these meetings manage to break through the institutional canon and possibly convey the importance of self-criticism and of reexamining institutional authority. You've put it really nicely.

I am afraid that they didn't do much so far. Although we never know when discourse will penetrate the apparent hard shell of established ways of thinking about art.


Anastasija: I still remember entering the exhibition space last summer. The choreography that was created with the permanent collection and the work of the invited artists was very engaging. Because there wasn't a real center, but only a point of entry and exit which were interchangeable, all the narratives had the same importance.
With the exhibition you also reminded us of some forgotten episodes in history and how the negligence of archiving has led to a fragmented knowledge, which can be one of the reasons for the (self-) colonizing attitude which you are talking about.


Ivana: Now, with time and distance, I feel there was an overload of narratives in the small space of the old hammam. Past, present, possible futures, and all their potentialities and probabilities were mixing in the vaporizing hammam, creating a lot of mess I guess in the visitors' heads. I still feel the pressure from the sometimes confused visitors: "why is this exhibition an exhibition?"
The key thing that I tried to pull here is that there is a plurality of stories and that none of them has authority in it, but that these stories are important for the knowledge that we should build together not imposing on each other.

"Kiossev says that the actual cultural emancipation shall happen if the secondary, submissive and opaque role of small peripheral players at the world scene is recycled and processed, and their own sovereignty, authenticity and autonomy is acknowledged. Such ideas that are offering a specific potentiality of contestation, but also for cultural emancipation, are joined by the ideas of Zdenka Badovinac on self-definition, who underlines that it doesn't matter anymore how does West see us (the Other), or how do we see the West (the Master), but how do we see ourselves. Badovinac says 'If that point of self-definition is missing then it creates a fertile ground for new colonialisms and hegemonies.'" (From the exhibition catalog.)

It is exactly a specific self-definition or self-evaluation that maybe would lead to the decolonization of knowledge.


Anastasija: Leaking – this was another important concept and phenomenon in the exhibition.
The installation by Srdjan Jovanovic Weiss embraced the many leaking points in the building as a possibility for rethinking and creating a critical museum. Could you tell me something about the process and the way this installation became a support structure to enter into dialogue with the works from the collection?


Ivana: There was a year-long negotiation with the museum staff about this exhibition. Although they scrutinized every detail (I don't believe anyone had to go through this process before), this intensity also helped me clarify some of the ambiguities that appeared along the way.
The installation by Jovanovic Weiss was also part of this process. His idea of considering leaking a positive thing was quite daring for me and I embraced it fully. What if leaking is not something that should be hidden but, on the contrary, could be a means to expose what kinds of connotations are attached to the collection and the museum as an institution.
Weiss in this context offered a new concept of the review of the contemporary and solidarity – via the long-neglected leaking as an architectural, social, political, and artistic phenomenon, as well as a potentiality for different considerations. The research on leaking did set its own methodological framework, manifested as leaking in-situ and ex-situ. One hundred thirty-two points of leaking were registered and were further divided into past, present, future, and imaginary leaks.

Leaking is also the most frequently stated reason for not having a permanent exhibition and has been underlined as a topic in the public on numerous occasions; in addition, there have been several attempts to resolve it. Yet, it is exactly the leaking that is to provide encouragement, stimulus, a radical imagination of the treatment of the contemporary. It can be an intermezzo in the further course of things, as well as an attempt to create a critical museum, in the form of a "Museum – forum, engaged in a public debate, dealing with important and often controversial issues of a society, issues referring to both the history of a certain society and to its contemporaneity. A critical museum is an institution working to the benefit of a debate-based democracy, being at the same time a self-critical institution revising its own tradition, reexamining its own authority and the historic and artistic cannon it has created itself." (From the exhibition catalog.)


Anastasija: Is there something that you think we have missed that is vital to your projects? Or in general when we talk of reexamining heritage, what we consider to be heritage, and the potency of revisiting history for establishing new concepts of the museum and collections.


Ivana: I start the text for the National Gallery exhibition with the following paragraph which I think answers to your question:
"We live in a time when the choice and manner of showing the past is crucial for the democratisation of the modern society. History is a collective memory that gives meaning to our political existence and action. Whether we shall run our livelihoods and professional endeavours towards emphasising the public, collective matters and development, or towards increasing individualisation and growth, typical of today's global capitalism, is also dependent on how we value the past and where do we start from in the creation of history."


This email address is being protected from spambots. You need JavaScript enabled to view it.